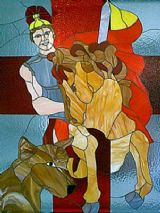 San Martino.
Photo of stained glass designed by the students of Art of Aosta)
This date is important in Italy for more than one reason! Firstly it is when festas are held to celebrate the Vino Novello (the new seasons wine) in some parts of Italy. In fact on this day last year our own wine was ready for sealing, as the fermentation process was complete. San Martino 2010 We did not make any wine this year as we knew that we would be away travelling when it needed attention. Instead we made grape juice which we will enjoy as a breakfast drink over the winter.
November 11th is the official feast day for San Martino - Saint Martin was born in a Roman province in what is now Hungary, a Roman citizen whose father was an army officer and himself became one, later giving it up to become a monk. He is the patron saint of soldiers and wine-makers! Hence maybe the celebration of Vino Novello on this day!

Historically the story goes that while he was riding at the gates of the city of Amiens with his soldiers, he met a poor, freezing beggar, cut his own military cloak in half and shared it with him. That same night he dreamt of Jesus wearing the half-cloak he had given to the poor man and thanking him for his compassionate gesture. It is also said that at the moment he shared his cloak, the sun came out and that is why in Italy, a period of sunny, warm weather with clear skies and mild temperatures of around 21C/70F, occurring during early November is called Estate di San Martino.
We are of course hoping for an Estate di San Martino while we pick our olives this year. Weather permitting we are starting tomorrow, my sister arrives this afternoon for a working holiday. Well she did ask if she could help this year so we have waited for her arrival. The barometer is rising and the weather looks promising, today Wednesday the 9th of November at 2pm the thermometer was reading 21C so maybe we will be enjoying an Indian Summer, let us hope so. When we harvested our olives last year we had beautiful weather but a disastrous crop, but as you have already seen from my earlier photos Olives, it is looking a lot more promising for the 2011 harvest.
I am sure many of you have heard the term Indian Summer before when referring to a spell of warmer than normal temperatures accompanied by sunshine and dry and hazy conditions in the Autumn months.
In earlier times in Europe, "Indian summer" was called "Saint Martin's Summer", referring to St. Martin's Day on November 11th.
The phrase 'Saint Martin's Summer' comes from France where it is still widely used. In Italy, St Martin's summer (Estate di San Martino) was expected and celebrated as a rural tradition with ancient origins.
By the ancient agriculture systems of Rural tenancy and Sharecropping the yearly rental of the lands traditionally ended just on November 11th, right at the end of the harvesting season, but still before winter.
The St Martin's Summer often occurs around 11th November and lasts for 3 or 4 days. It is so famous and popular that in Italy there are events and festivals in many Italian cities and villages. Born as a religious celebration, it has been turned into a range of wine and food events in which visitors have the chance to taste the new wine.
I have not forgotten either that November 11th is also
Remembrance Day
but here in Italy servicemen who died for the nation are remembered on 4 November, when the ceasefire that followed the
Armistice of Villa Giusti
in 1918 began. Since 1977, this day has not been a public holiday, now, many services are held on the first Sunday of November.
In Memory of those that lost their lives for us.
All rights reserved by
LindyLouMac Photo Collection
For followers that have joined me in the last year my previous posts about San Martino and the Wine Harvest can be read in the following links. San Martino 2010 and Indian Summer
I am now off to spend some quality time with my sister.
Photo of olives taken during our 2009 Harvest :
All rights reserved by
LindyLouMac Photo Collection