Yesterday was San Martino and I completely forgot about it, I suspect because our spell of mild and sunny weather came to an end this weekend. We had thunderstorms and torrential rain all day long, definitely a good day for curling up by the fire with a good book. I thought that those of you that are new to reading News From Italy since I last wrote about this date may be interested in some background to San Martino.
However first I have not forgotten either that November 11 is also Remembrance Day but here in Italy servicemen who died for the nation are remembered on 4 November, when the ceasefire that followed the Armistice of Villa Giusti

in 1918 began. Since 1977, this day has not been a public holiday and nowadays many services are held on the first Sunday of November.
In Memory of those that lost their lives for us.
All rights reserved by LindyLouMac Photo Collection
November 11th is the official feast day for San Martino - Saint Martin whom I have discovered was born in a Roman province in what is now Hungary, a Roman citizen whose father was an army officer and himself became one, later giving it up to become a monk. He is the patron saint of soldiers and wine-makers!
Historically the story goes that while he was riding at the gates of the city of Amiens with his soldiers, he met a poor, freezing beggar, cut his own military cloak in half and shared it with him. That same night he dreamt of Jesus wearing the half-cloak he had given to the poor man and thanking him for his compassionate gesture. It is also said that at the moment he shared his cloak, the sun came out and that is why in Italy, a period of sunny, warm weather with clear skies and mild temperatures of around 21C/70F, occurring during early November is called Estate di San Martino. It seems we must have enjoyed our St Martin's summer last week then!
San Martino also happens to be the day when festas are held to celebrate the vino novello (the new seasons wine) in some parts of Italy.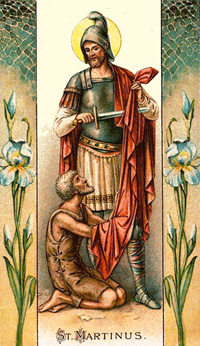 Google Images
In my last post I announced that News From Italy has been accepted by Expatblogs.com as a contender for one of their awards.
Thanks lovely followers for the tremendous support you have given me, by leaving such wonderful comments at
Expatblogs.com
in support of News From Italy,
I am so touched by them
.