The town of Bolsena takes its name from the lake of the same name, it is on the north eastern shores of Lago di Bolsena.  Bolsena has I think a much more touristy seaside feel to it than the other towns surrounding the lake, with more in the way of campsites, agriturismo's, hotels and holiday homes it attracts a lot of holiday makers. The resident population of around 4,000 normally grows to approximately 10,000 during the summer months.  
If you are interested in learning more historical facts and other information you can always visit Bolsena - Wikipedia or the Bolsena Official Website
We started our walk at the top of the town, high above the lake and rooftops and strolled downhill. For those of you that were asking me where I took the chimney photo from that I posted on Beautiful World, the fourth mosaic, shows the spot by the archway.
All rights reserved by LindyLouMac Photo Collection
I hope you have enjoyed sharing this collection of photos taken around Bolsena during a visit when my cousin was staying with us last month, if you would like to see the photographs full size please visit the collection at Flickr.com, the album entitled A stroll in Bolsena
I have featured Bolsena on News From Italy before and more vistas can be found in the following posts. Bolsena, Bolsena - Scenes From a late Summer Stroll
I am linking this post to Potpourri Friday at A Potpourri of Life at 2805,  Scenic Sunday, La Dolce Vita and Mosaic Monday at Little Red House the latter where you will find lots of other beautiful Mosaics. Welcome to 'News From Italy' to the other participants, thankyou for calling by.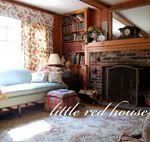 Did you spot the boot and the unusual tomatoes?
Have a lovely weekend everyone.