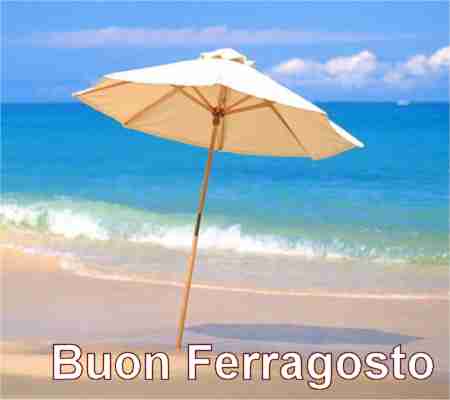 courtesy of Google images
The Bank Holiday on August 15th is typically Italian although it is celebrated in a number of other European countries, but not in the UK.  Many Italians take long holidays around this date, celebrating the actual day with lavish long lunches and given the heat at this time of the year often seaside, lakeside or in the refreshing mountain air.
The word Ferragosto derives from the Latin phrase feriae Augusti (Augustus' rest), a feast that was started by the emperor Octavian Augustus in 18 BC  to celebrate the harvest and the end of the main farm work. During the festivities, throughout the empire were organized races with horses donkeys and mules, were free from work and decked with flowers. These ancient traditions are still alive  in some parts of Italy today, virtually unchanged in form and participation such as the Palio di Siena held in Siena on August 16 every year.
All over Italy tonight there will be musical entertainment, plus in some places Fireworks to celebrate Ferragosto, so what sort of music will they be listening to. A lot of it will be English language pop music, but here is a varied selection of the tribute to Ferragosto videos that I found on YouTube. 
Some Reggae to start with.
Courtesy of sabrina3309    Laid Back - Sunshine Reggae
This next video sums up summer beautifully, no biographical information on the artist today though as I will feature him as my chosen artist in the next few weeks.
 Courtesy of marinellaforever
A blast from the past, this artist is still very popular here in Italy, so I will feature him individually as well soon with biographical information.
Courtesy of STAGE58
My final choice is another oldie that sums up summer nights in the city for me 'Luna di Citta d' Agosto'  'The Moon in the City in August sung by Lorenzo Jovanotti another artist I plan to feature here as a Sunday song artist in the next few weeks.
Courtesy of surbino
I hope you have enjoyed this selection of Tribute to Ferragosto music and videos as a taster of songs from three Italian male singers that I plan to feature individually over the next few weeks.
 More Sunday Songs can be found by visiting 5 Minutes Just for Me
Buon Ferragosto
We will be celebrating today with Our Wonderful Neighbours, some of you will already know how kind they are to us, treating us like members of their extended family.